with Crille Rask, Roark Ambassador
Kembali means to be back in Indonesian. The feeling to be back this time was something very different from all other times. I had been trapped in Europe for four months waiting patiently to be able to return to my home and my dog in Bali. The feeling of not being able to move freely around the world on my own terms definitely left a palpable unease in my body. I guess I've taken it a tad for granted lately and the thought process around this truly made me see what it is that I want in my life and also what I am grateful for. I was in need of a mission, with only the camera, the boards, good company and a set of wheels to take me around.
After two weeks back in Bali I linked up with my good buddy Matt Power and asked him if he would be down to head over to Lombok for a week to find some empty waves and venture around a bit. Matt was down and so was Okar, a Swedish comrade.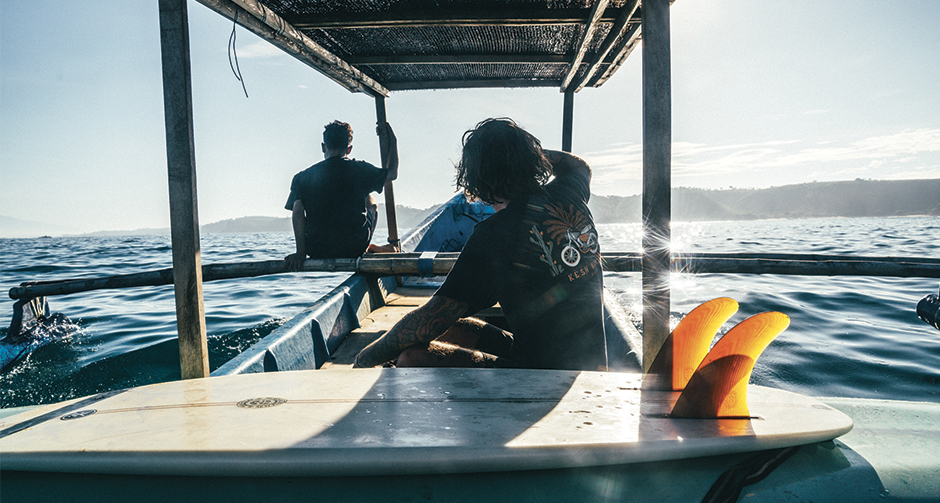 Off we went and after a quick and painless flight we found ourselves with a coffee in hand and on the hunt for some bikes to take us around the island. Once we sorted the bikes we prepped all our gear and headed off towards our first stop, Desert point. Deserts is one of those intimidating waves that you've always heard of and seen the below sea level tunnels blasting through.
The forecast looked promising for a mellow and great first attempt on the wave. The journey there was one of the most epic drives I've ever experienced, with perfect little winding roads on the ridges of the jungle filled mountains and sea views on either side was simply mind-blowing. It was hard to feel anything but appreciation and pure excitement.
As most old bikes do, mine decided to break down at the epicentre of nothing, and after half an hour of pulling out every single cable, fuse or relay I somehow miraculously managed to get it rolling again. We arrived at Deserts just in time for a little sunset splash, catching some shoulder high fun waves, but a tad too fast to make any sections. The swell we were hoping for never really arrived, which led me to use my log instead. It turned out to be super fun on the higher tide and made the journey more than worth the effort.
After two nights and plenty of fun little peelers we decided to go explore the coast for some other possibilities. Stumbling upon some of the most fun, cruisey log waves in places I will never utter the name of. We spent a full day at the edge of a cornfield with barely any shade, dipping in and out of the water multiple times until all we could taste was salt, rash and skin that would make ketchup jealous.
The rest of the week was spent surfing at the more frequented waves of the island and we found ourselves digging out a couple of more hidden log gems due to the strong trade winds that dominate this time of year.
The heart was full and the spirit was revived. This was all I needed. To be out on the road with good friends exploring just because you can and you feel like it. There's nothing better. Finding yourself constantly in the present moment without a single worry or thought about yesterday or tomorrow. Just laughs, jokes and memories that will stick for life. It's all you need.